News
La ONUDI facilita el intercambio de buenas prácticas en la industria automotriz entre responsables políticos de la India y México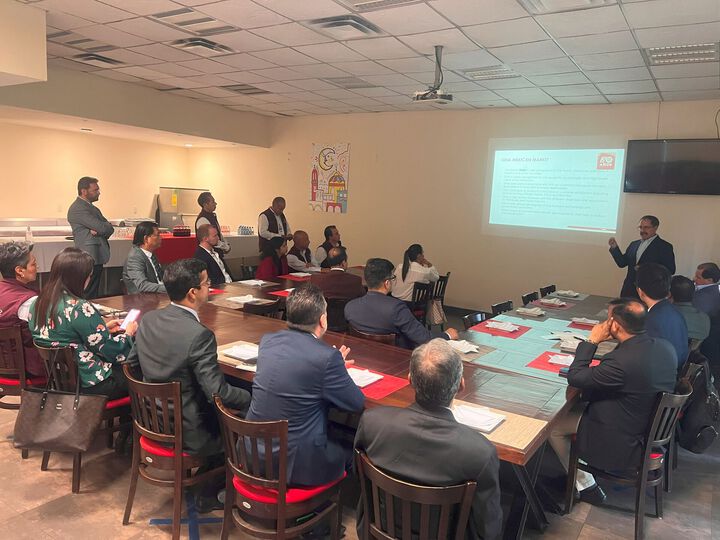 Querétaro, 28 de mayo de 2023 - La industria automotriz constituye el pilar del sector manufacturero de la India y contribuye con casi el 6,4% del PIB del país y el 35% del PIB manufacturero. A partir de diciembre de 2022, la India se ha convertido en el tercer mercado automotriz más grande del mundo, superando a Japón y Alemania en términos de ventas. Además, el país está emergiendo como un centro global para la obtención de componentes automotrices para mercados clave como el sudeste asiático, Japón, Corea y Europa.
Dentro de las diversas iniciativas que la ONUDI está llevando a cabo en la India para promover un desarrollo industrial inclusivo y sostenible, en colaboración con la Asociación de Fabricantes de Componentes Automotrices de la India (ACMA), se está llevando a cabo un programa de desarrollo de proveedores en la India financiado por el Ministerio de Industrias Pesadas. El programa busca fortalecer la capacidad de los fabricantes de componentes automotrices pequeños y medianos para mejorar su productividad y rendimiento, facilitar su inclusión en las cadenas de suministro automotrices nacionales e internacionales, y cumplir con los rigurosos requisitos de calidad de los fabricantes de vehículos. Más información se encuentra disponible en: https://udaypride.com/
En el marco de este programa, se organizó una gira de estudio en México del 20 al 28 de mayo de 2023, en la cual participaron formuladores de políticas de la India y asociaciones industriales para conocer y compartir las mejores prácticas adoptadas tanto en México como en la India, y establecer alianzas estratégicas con diversas instituciones mexicanas, tanto del sector público como privado, relacionadas con la Industria 4.0 en la fabricación de componentes automotrices en México.
Durante las discusiones, se exploraron posibilidades de colaboración en diversos temas relevantes no solo para la India y México, sino también para la comunidad global, como la Economía Circular, la Industria 4.0, el comercio internacional, la innovación, la capacitación y el empleo, entre otros. También se exploraron las discusiones relacionadas con la promoción de la innovación y la Industria 4.0 en las micro, pequeñas y medianas empresas (MiPyMEs).
En este sentido, se llevaron a cabo reuniones con el Sr. Carlos Henkel Escorza, Secretario de Desarrollo Económico del Estado de Hidalgo y agencias clave de México encargadas de los temas mencionados anteriormente, como los funcionarios del desarrollo sostenible del Estado de Querétaro, la Cámara de Comercio e Industria Franco-Mexicana, la Industria Nacional de Autopartes, y la Comisión de la Confederación Mexicana de Cámaras Industriales (CONCAMIN), entre otros.
---
UNIDO facilitates the exchange of good practices in the automotive industry between Indian and Mexican policymakers.
Queretaro, 28 May 2023 - The automobile industry forms the backbone of the Indian manufacturing sector, contributing almost 6.4% to India's GDP and 35% to its manufacturing GDP. As of December 2022, India has become the world's third-largest automobile market, surpassing Japan and Germany in terms of sales. Furthermore, the country is emerging as a global hub for sourcing automotive components for key markets such as Southeast Asia, Japan, Korea, and Europe.
As part of its efforts to promote Inclusive and Sustainable Industrial Development in India, UNIDO is collaborating with the Auto Component Manufacturers Association of India (ACMA) to implement a supplier development programme. This programme, funded by the Indian Ministry of Heavy Industries, aims to enhance the capacity of small and medium-sized automotive component manufacturers, enabling them to improve their productivity and performance levels. The ultimate goal is to integrate these manufacturers into both domestic and global automotive supply chains and meet the stringent quality requirements of vehicle manufacturers. For more information, please visit: https://udaypride.com/
Within the framework of this programme, a study tour was organized in Mexico from 20 to 28 May 2023. The tour provided an opportunity for Indian policymakers and industry associations to share and learn about the best practices adopted in both Mexico and India. It also facilitated the establishment of strategic alliances with various Mexican institutions, both public and private, that are involved in Industry 4.0 manufacturing of automotive components in Mexico.
During the discussions, a wide range of topics were explored, not only relevant to India and Mexico but also important for the global community. These topics included Circular Economy, Industry 4.0, International Trade, Innovation, Trainning, and Employment. Additionally, the discussions delved into promoting innovation and Industry 4.0 in MSMEs (Micro, Small, and Medium Enterprises).
In this regard, meetings were held with Mr. Carlos Henkel Escorza, Secretary of Economic Development of the State of Hidalgo, and key Mexican agencies dealing with the aforementioned issues. Officials from the Sustainable Development department of the State of Querétaro, the Franco-Mexican Commercial and Industrial Chamber, the National Autoparts Industry, and the Commission of the Mexican Confederation of Industrial Chambers (CONCAMIN), among others, participated as well.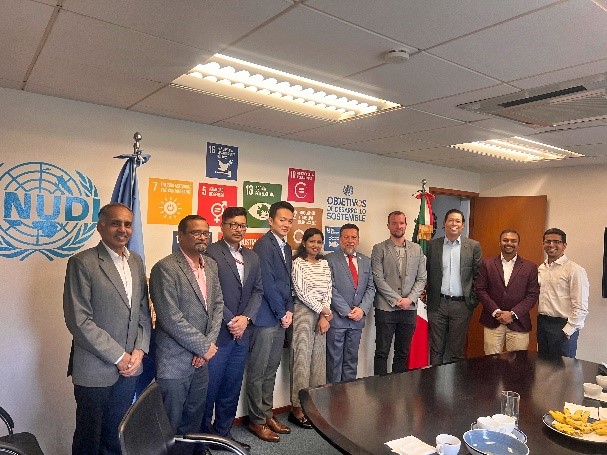 1 / 5