APPROACH
What is the Sustainable Development Goal 9?
The Sustainable Development Goal (SDG) 9 calls to build resilient infrastructure, promote inclusive and sustainable industrialization, and foster innovation. Focusing on the inclusive and sustainable industry, innovation and infrastructure can unleash dynamic and competitive economic forces that generate employment and income. These play a key role in introducing and promoting new technologies, facilitating international trade, and enabling the efficient use of resources.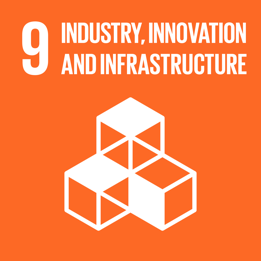 SDG 9 sets out five key targets and three additional targets (9.A, 9.B, and 9.C) for resource mobilization and policy to be achieved by 2030. The eight targets are: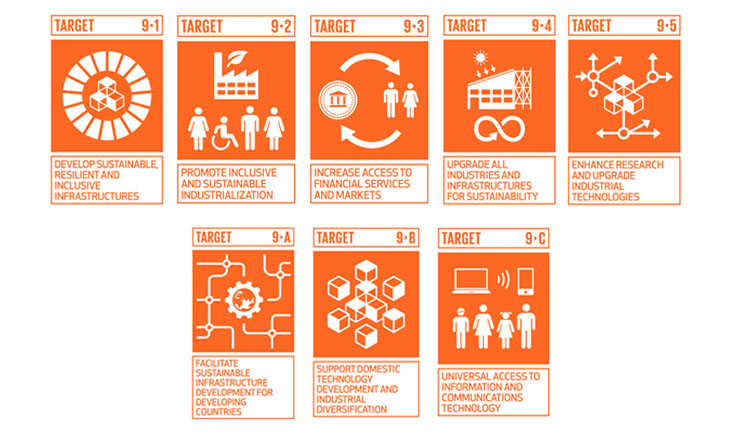 Why is the SDG 9 key for a better and greener recovery?
As the UN Secretary General António Guterres highlighted in July 2020 with the 'Policy Brief on the Impact of COVID-19 on Latin America and The Caribbean', SDG 9 is the path for overcoming the problems caused by the pandemic in the Latin American and Caribbean (LAC) region. Inclusive and sustainable industrial development (ISID) offers the region the opportunity to build back better and greener industrial capacities for economic recovery and equitable distribution of benefits for all stakeholders.
How can the SDG 9 Accelerator help you to achieve your goals?
The SDG 9 Accelerator connects you with the right people and leads you to the right information and resources. It helps you reach your collaborative goals by offering you tools to accelerate progress towards SDG 9 whilst also triggering positive multiplier effects on other SDGs.
What are the Accelerators?
The Accelerators are 11 industrial development policy and program areas that channel efforts to speed up the achievement of the SDG 9 by Latin American and Caribbean countries. The list presented below will be updated as the region's priorities change.
The tools, fora and news are organized under the Accelerators enabling you to filter content according to your interests and allowing you to find the most relevant material for you.
What are the available tools?
The SDG 9 Accelerator offers you a plethora of tools on key topics related to SDG 9, inviting you to take part of an exclusive community of innovators. The tools offered by UNIDO and its partners will support you in your efforts to accelerate progress made towards achieving SDG 9, these can be found under the following categories:
Where is UNIDO based in the LAC region?
Why the 'SDG 9 Accelerator'?
- It is the only technical cooperation network that promotes inclusive and sustainable industrial development (ISID) through knowledge sharing.
- It provides technical services in priority sectors and areas identified and demanded by the countries involved.
- It is a unique knowledge-sharing tool where countries and stakeholders can access up-to-date information on factors that accelerate the pace of SDG 9 achievement.
- It is based on South-South and triangular cooperation between countries in the LAC region.