Tools
SEGUNDO REPORTE NACIONAL VOLUNTARIO - COLOMBIA 2018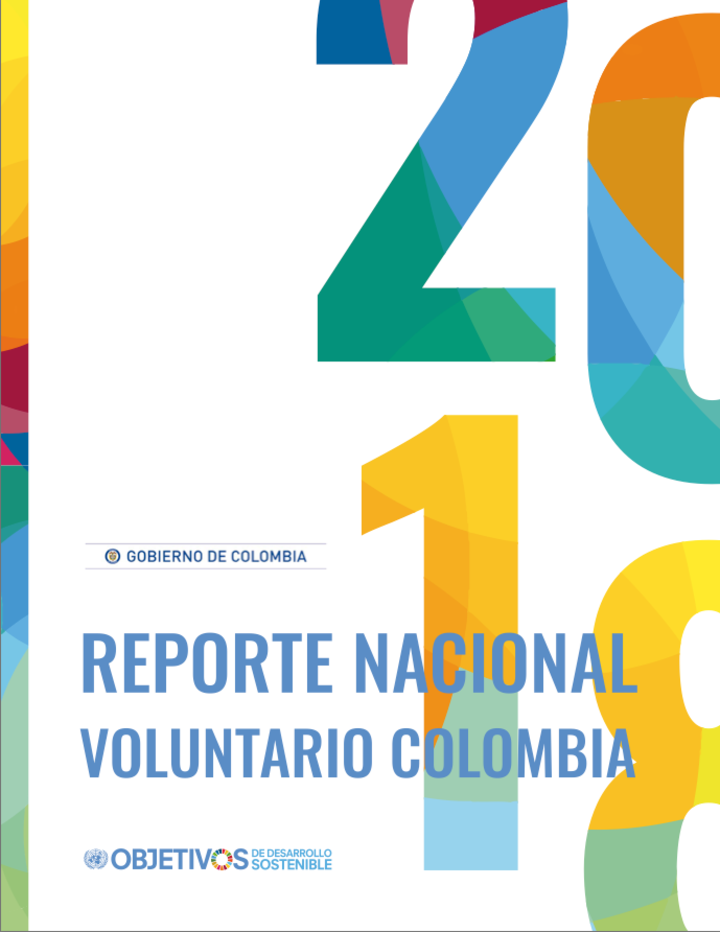 ESPAÑOL
Reporte Nacional Voluntario - Colombia 2018
Este documento contiene la visión del país a 2030, un esquema de seguimiento con indicadores nacionales, metas cuantificables, responsabilidades institucionales y un ejercicio de priorización y regionalización, mediante un conjunto de "metas trazadoras" con la capacidad de impulsar avances en las demás metas de cada ODS. Incorpora también un plan de fortalecimiento estadístico y una estrategia territorial, buscando maximizar la apropiación y utilidad de los ODS, respetando la autonomía y prioridades definidas por los gobiernos territoriales. Por último, comprende una estrategia de interlocución y promoción de alianzas con actores no gubernamentales, con el objetivo de institucionalizar el diálogo y consolidar la Agenda 2030 como un propósito de país.
ENGLISH
Voluntary National Review - Colombia 2018
This document contains the country's vision for 2030, a monitoring scheme with national indicators, quantifiable targets, institutional responsibilities and a prioritisation and regionalisation exercise, through a set of "tracer targets" with the capacity to drive progress on the other targets of each SDG. It also incorporates a statistical strengthening plan and a territorial strategy, seeking to maximise the appropriation and usefulness of the SDGs, while respecting the autonomy and priorities defined by territorial governments. Finally, it includes a strategy for dialogue and promotion of alliances with non-governmental actors, with the aim of institutionalising dialogue and consolidating the 2030 Agenda as a national goal.
The report is only available in Spanish.
Attached files
Reporte Nacional Voluntario