Tools
REPORTE NACIONAL VOLUNTARIO 2021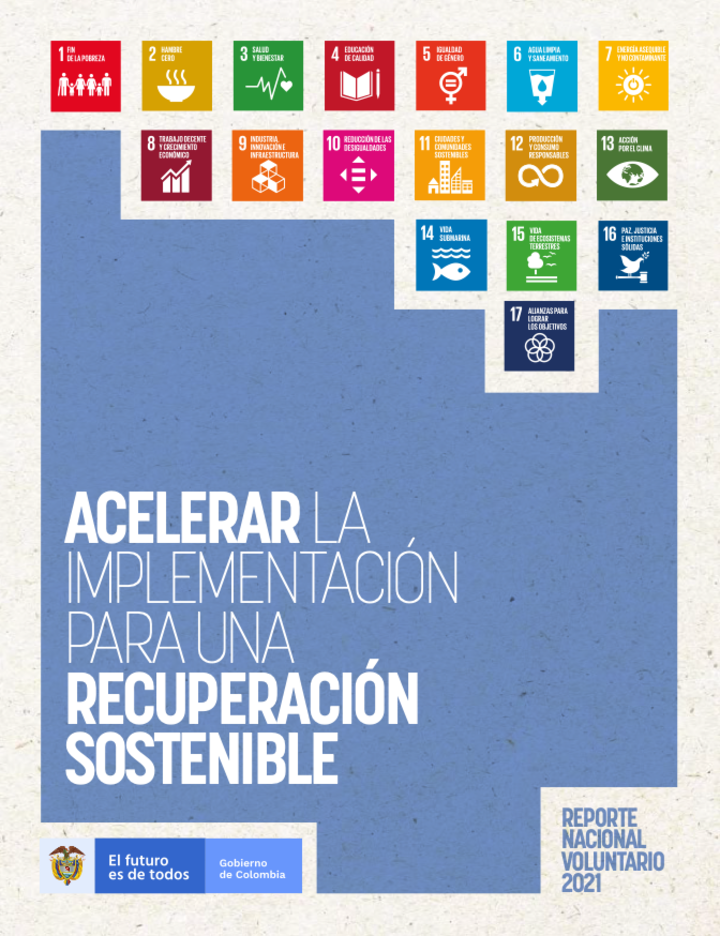 ESPAÑOL
REPORTE NACIONAL VOLUNTARIO - Colombia 2021
Sin duda alguna, después de seis años desde la adopción de la Agenda 2030 para el desarrollo sostenible, en medio de lo que se ha denominado la Década de Acción, la implementación y el logro de las metas de los Objetivos de Desarrollo Sostenible (en adelante los ODS) se han convertido en un desafío y a su vez en una oportunidad para lograr construir el Futuro que queremos de una forma sostenible, como resultado del esfuerzo y movilización de diferentes actores y recursos. En este contexto se elabora el tercer Reporte Nacional Voluntario (RNV2021): ODS Colombia: Acelerar la implementación para una recuperación sostenible, que presenta los avances de los indicadores de seguimiento, las respues- tas a la crisis más compleja que estamos afrontando desde la adopción de los ODS por causa de la pandemia del COVID-19, y los aportes que desde diferentes acto- res se han materializado para cumplir el objetivo de No dejar a nadie atrás. Además, el reporte contiene los avan- ces en la formulación de estrategias de movilización de recursos para contar con un marco integrado de financiamiento y resalta las buenas prácticas identificadas en las entidades territoriales en cuanto a apropiación e inclusión de la Agenda ODS en los instrumentos de planeación.
ENGLISH
VOLUNTARY NATIONAL REVIEW - Colombia 2021
Undoubtedly, after six years since the adoption of the 2030 Agenda for Sustainable Development, in the midst of what has been called the Decade of Action, the implementation and achievement of the targets of the Sustainable Development Goals (hereinafter the SDGs) have become a challenge and at the same time an opportunity to build the Future we want in a sustainable way, as a result of the effort and mobilisation of different actors and resources. In this context, the third Voluntary National Report (VNR2021): SDG Colombia: Accelerating implementation for sustainable recovery, presents the progress of the monitoring indicators, the responses to the most complex crisis we are facing since the adoption of the SDGs due to the AIDS-19 pandemic, and the contributions that have materialised from different acts to meet the goal of Leaving No One Behind. In addition, the report contains the progress made in the formulation of resource mobilisation strategies for an integrated financing framework and highlights the good practices identified in the territorial entities in terms of appropriation and inclusion of the SDG Agenda in planning instruments.
The report is only available in Spanish.
Attached files
Reporte nacional voluntario