Tools
INFORME SOBRE EL DESARROLLO INDUSTRIAL 2020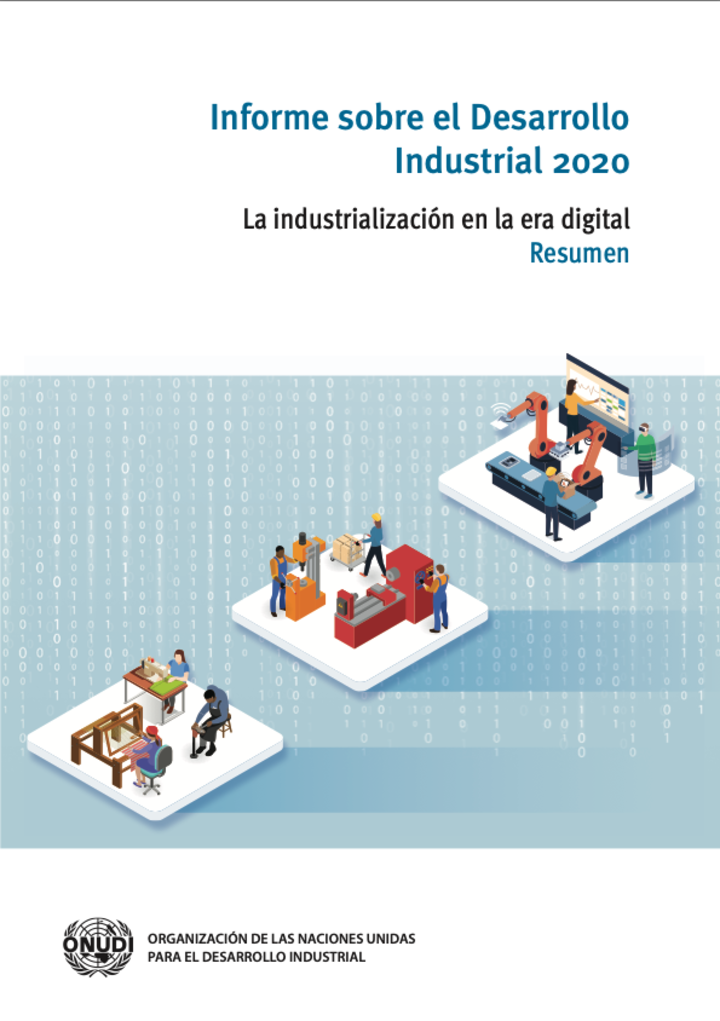 ESPAÑOL
Informe sobre el Desarrollo Industrial 2020
La aparición y difusión de tecnologías de producción digital avanzada (PEA) agrupadas en torno a la cuarta revolución industrial (4IR) está alterando radicalmente la naturaleza de la producción manufacturera, difuminando cada vez más los límites entre los sistemas de producción físicos y digitales. Los importantes requisitos de las tecnologías ADP están abriendo interrogantes sobre si la industrialización sigue siendo una estrategia factible o incluso deseable para lograr el desarrollo económico. IDR 2020 contribuye a este debate presentando nuevos datos analíticos y empíricos sobre el futuro de la industrialización en el contexto de un cambio de paradigma tecnológico. Sostiene que la industrialización sigue siendo la principal vía para el éxito del desarrollo y analiza cómo los países en desarrollo pueden aprovechar las características más destacadas de las tecnologías emergentes en su beneficio. Según el informe, es precisamente comprometiéndose con la industrialización como los países pueden construir y fortalecer las habilidades y capacidades necesarias para competir y tener éxito dentro del nuevo paradigma tecnológico.
Para leer la publicación, haga clic aquí.
ENGLISH
Industrial Development Report 2020
The emergence and diffusion of advanced digital production (ADP) technologies clustered around the fourth industrial revolution (4IR) is radically altering the nature of manufacturing production, increasingly blurring the boundaries between physical and digital production systems. The significant requirements of ADP technologies are opening questions on whether industrialization is still a feasible or even a desirable strategy to achieve economic development. IDR 2020 contributes to this debate by presenting fresh analytical and empirical evidence on the future of industrialization in the context of a technological paradigm shift. It argues that industrialization continues to be the main avenue for successful development and analyses how developing counties can leverage the salient features of the emerging technologies to their advantage. According to the report, it is precisely by engaging with industrialization that countries can build and strengthen the skills and capabilities needed to compete and succeed within the new technological paradigm.
To read the publication, click here.