Tools
Programa de Recuperación Industrial COVID-19 (CIRP)
Programs and projects on technical cooperation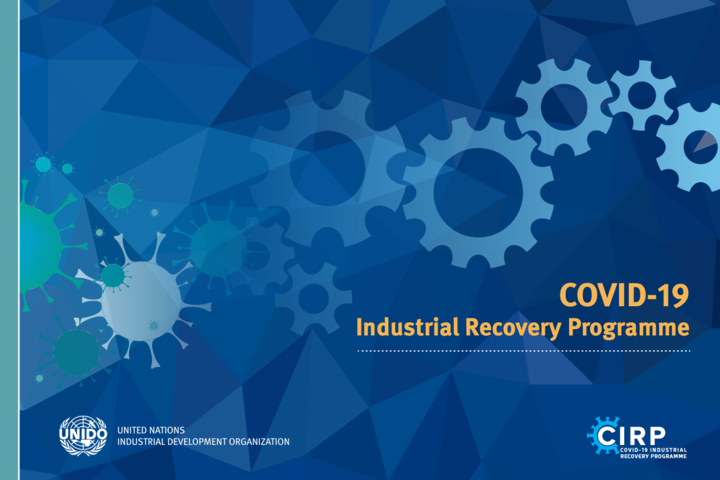 ESPAÑOL
Programa de Recuperación Industrial COVID-19
La Organización de las Naciones Unidas para el Desarrollo Industrial (ONUDI) ha desarrollado un nuevo enfoque que proporcionará apoyo específico a los gobiernos nacionales para reestructurar su sector industrial con el fin de transformarse y adaptarse a las realidades cambiantes. El objetivo es responder a las necesidades nacionales, regionales e internacionales en la fase de recuperación posterior a la crisis del 19.
Aprovechando su larga experiencia en la mejora industrial y la modernización de las empresas e instituciones, la ONUDI utilizará el Programa de Recuperación Industrial COVID-19 (CIRP, por sus siglas en inglés) como herramienta para apoyar la recuperación sostenible e inclusiva del sector industrial y mitigar los efectos de la pandemia COVID-19 a través de una mayor innovación.
CIRP ofrece un enfoque por fases para la recuperación industrial que se centra principalmente en el apoyo a los países menos desarrollados, de bajos ingresos y de ingresos medios bajos. Consta de cinco fases: (i) evaluación y análisis del impacto de COVID-19 en el sector industrial, (ii) creación de consenso, (iii) desarrollo de un plan nacional de recuperación industrial, (iv) pilotaje de la recuperación del sector industrial nacional, y (v) replicación del éxito del piloto para lograr la recuperación del sector industrial nacional.
La información sobre el CIRP se encuentra disponible solo en inglés. Para leerla, haga clic aquí.
ENGLISH
COVID-19 Industrial Recovery Programme (CIRP)
The United Nations Industrial Development Organization (UNIDO) has developed a new approach which will provide targeted support to national governments to restructure their industrial sector in order to transform and adapt to the changing realities. The goal is to meet national, regional and international needs in the post-COVID-19 recovery phase.
Drawing on its longstanding experience with industrial upgrading and modernization of enterprises and institutions, UNIDO will use the COVID-19 Industrial Recovery Programme (CIRP) as a tool to support the sustainable and inclusive recovery of the industrial sector and mitigate the COVID-19 pandemic effects through increased innovation.
This CIRP offers a phased approach to industrial recovery that is primarily focused on supporting least developed, low-income and lower middle-income countries. It consists of five phases: (i) assessment and analysis of the impact of COVID-19 on the industrial sector, (ii) consensus building, (iii) developing a national industrial recovery plan, (iv) piloting national industrial sector recovery, and (v) replicating pilot success to achieve national industrial sector recovery.
To read information on CIRP, click here.