Tools
La Caja de Herramientas de TEST
Technology and skills development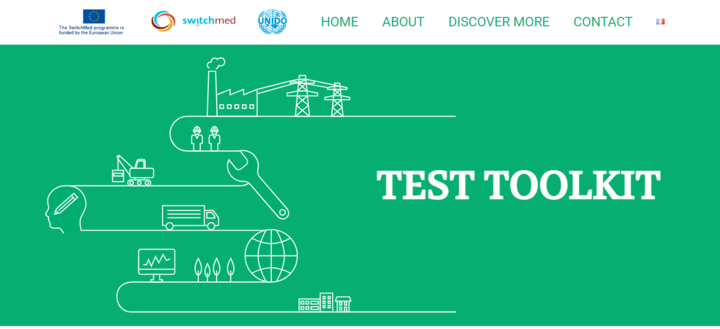 ESPAÑOL
La Caja de Herramientas de TEST
Este conjunto de herramientas en línea ha sido desarrollado por la Organización de las Naciones Unidas para el Desarrollo Industrial (ONUDI) en el marco del programa SwitchMed, una iniciativa financiada por la Unión Europea. Los usuarios a los que va dirigido el conjunto de herramientas son profesionales y proveedores de servicios que trabajan para la industria manufacturera interesados en aprender una metodología integrada (TEST) y un conjunto de herramientas para ayudar a las empresas a mejorar su ventaja competitiva mediante la adopción de estrategias y soluciones de eficiencia de recursos.
Las autoridades nacionales pueden utilizar este conjunto de herramientas para diseñar y ejecutar programas de asistencia técnica a empresas para mejorar la eficiencia de los recursos en el sector industrial. La metodología TEST desarrollada por la ONUDI es una forma sistemática de identificar y explorar los potenciales más factibles para la eficiencia de los recursos y la mejora continua del uso de materiales, agua y energía dentro de una empresa, basándose en sus necesidades específicas y capacidades internas.
La herramienta solo se encuentra disponible en inglés. Para acceder a ella, haga clic aquí.
ENGLISH
The TEST Toolkit
This online toolkit has been developed by the United Nations Industrial Development Organization (UNIDO) within the framework of the SwitchMed Programme, an initiative funded by the European Union. The target users of the toolkit are practitioners and service providers working for the manufacturing industry interested in learning an integrated methodology (TEST) and a set of tools to help businesses improve their competitive advantage by adopting resource efficiency strategies and solutions.
National authorities can use this toolkit to design and implement technical assistance programmes for enterprises to improve resource efficiency in the industrial sector. The TEST methodology developed by UNIDO is a systematic way to identify and explore the most feasible potentials for resource efficiency and continuous improvement of material, water and energy use within an enterprise, based on its specific needs and internal capacities.
To access to the Toolkit, click here.