Tools
Plataforma de Cooperación Regional - Cadenas de valor del camarón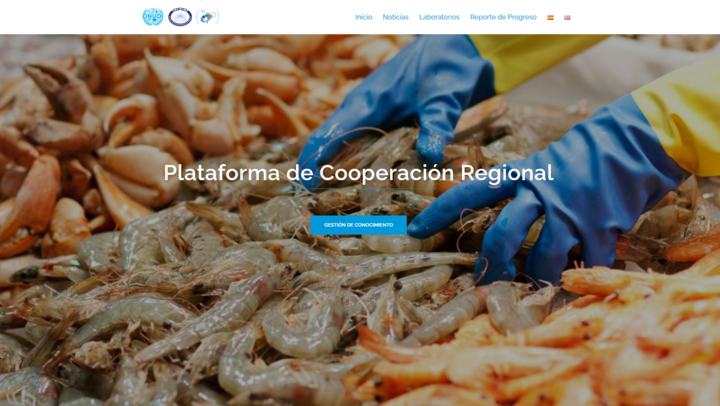 ESPAÑOL
Plataforma de Cooperación Regional
La Plataforma de Cooperación Regional establecida permite identificar oportunidades de cooperación sur-sur y alianzas triangulares, así como organizar acciones conjuntas para el desarrollo de las cadenas de valor del camarón de manera permanente.
De esta manera, se logró un mejor nivel de coordinación e intercambio de experiencias y cooperación entre los propios actores del sector camaronero y con las instituciones de Gobierno a nivel nacional y regional.
La plataforma digital fue creada y vinculada a las instituciones nacionales de cada uno de los países participantes en el proyecto "Mejora de la productividad y la competitividad de las cadenas de valor de la pesca en la región de ALC" . Contiene, entre otros;
- Una base de datos de expertos;
- Una base de datos regional de normas de calidad nacionales e internacionales y requisitos de cumplimiento de los principales mercados de exportación de la región, incluidas las capacidades analíticas de los laboratorios de cada país;
- Foros de debate que sirven de base para la formación de alianzas estratégicas y asociaciones regionales, así como para el establecimiento de un sistema regional de certificación de productos.
Para acceder a la Plataforma, haga clic aquí.
ENGLISH
Regional Cooperation Platform
The Regional Cooperation Platform established allows for the identification of south-south cooperation opportunities and triangular partnerships, as well as organizing joint actions for the development of the shrimp value chains on a permanent basis.
In this way, an improved level of coordination and exchange of experience and cooperation between the actors themselves in the shrimp sector and with institutions of Government at the national and regional level was achieved.
The digital platform was created and linked to the national institutions of each of the participating countries in the project "Improving productivity and competitiveness of fishery value chains in LAC region". It contains, among other;
- An experts database;
- A regional data base of national and international quality standards and compliance requirements of the main export markets in the region, including the analytical capacities of laboratories in each country;
- Discussion forums that serve as the basis for the formation of strategic alliances and regional partnerships, as well as for the establishment of a regional system of product certification.
To access to the Platform, click here.