Tools
II Reporte Nacional para la Revisión Voluntaria de México, 2018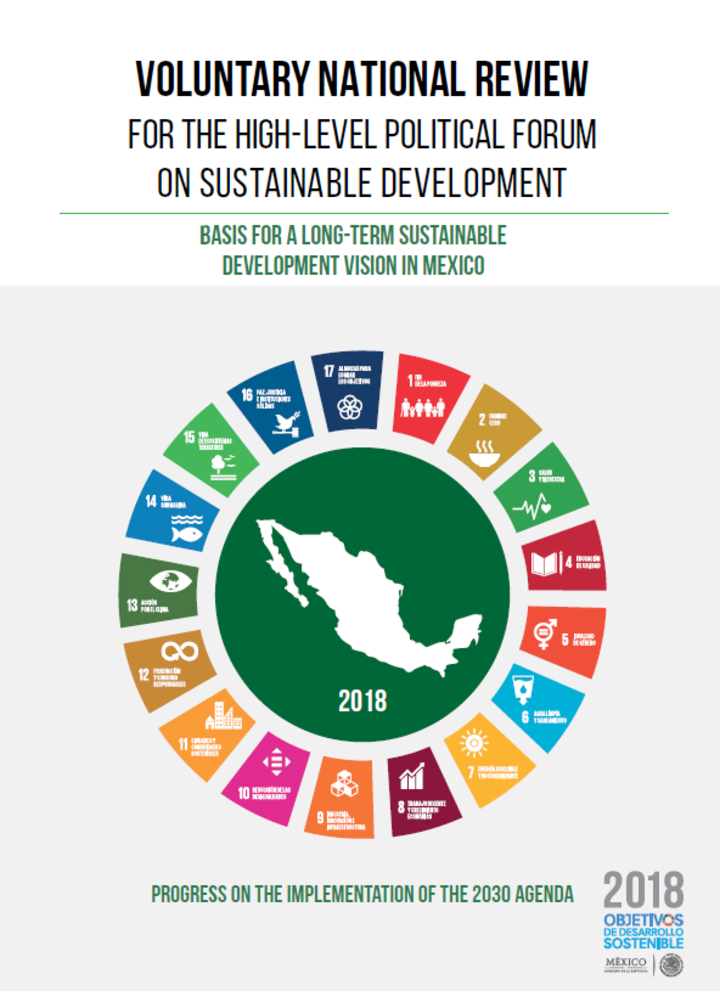 ESPAÑOL
II Reporte Nacional para la Revisión Voluntaria de México, 2018
En el primer Informe Nacional Voluntario (INV) que realizó México en 2016, se presentaron las medidas preparatorias para generar un ambiente adecuado para la instrumentación de la Agenda 2030. Asimismo, se mencionaron los pasos a seguir para asegurar su cumplimiento y apropiación en México.
Ahora, el segundo INV busca reflejar los avances, desafíos y lecciones aprendidas de los primeros tres años de la Agenda 2030. La participación de todos los actores sociales y ámbitos de gobierno es necesaria para enfrentar los retos actuales y asumir la Agenda 2030 como un Compromiso de Estado. Por ello, el presente Informe no se limita a las acciones de gobierno y presenta aportaciones de diversos actors clave para el desarrollo sostenible.
Este Informe incluye elementos de diagnóstico sobre las oportunidades y los desafíos que representa el cumplimiento de la Agenda 2030 para el país. En particular, la sección "Reporte de objetivos" contiene avances, acciones emblemáticas y desafíos. Las valiosas aportaciones de las OSC y del Sistema de las Naciones Unidas se retoman resumidas en los recuadros titulados "Posturas complementarias al ODS X expresadas en procesos de consulta". Los datos y fuentes allí incluidos son responsabilidad de cada uno de los participantes.
ENGLISH
II National Report for Mexico's Voluntary Review, 2018
Mexico's first Voluntary National Review (VNR), from 2016, presented the preparatory measures aimed at creating an adequate environment for the implementation of the 2030 Agenda. It also mentioned the steps to be taken to ensure adoption and compliance in Mexico.
This second VNR seeks to reflect the advances, challenges and lessons learned from the first three years of the 2030 Agenda. The participation of all social actors and levels of government is necessary to confront current challenges and assume the Agenda as a state commitment. For this reason, this review is not limited to the actions of the government. It also presents the contributions of a variety of actors that are key to sustainable development.
This review includes an overview of the opportunities and challenges of implementing the 2030 Agenda in Mexico. In particular, the "Review of Goals" section contains advances, emblematic actions and challenges. The valuable contributions of CSOs and the United Nations System are summarized in boxes labeled "Complementary Positions for SDG X Expressed in the Review Process." The data and sources included therein are the responsibility of the participants.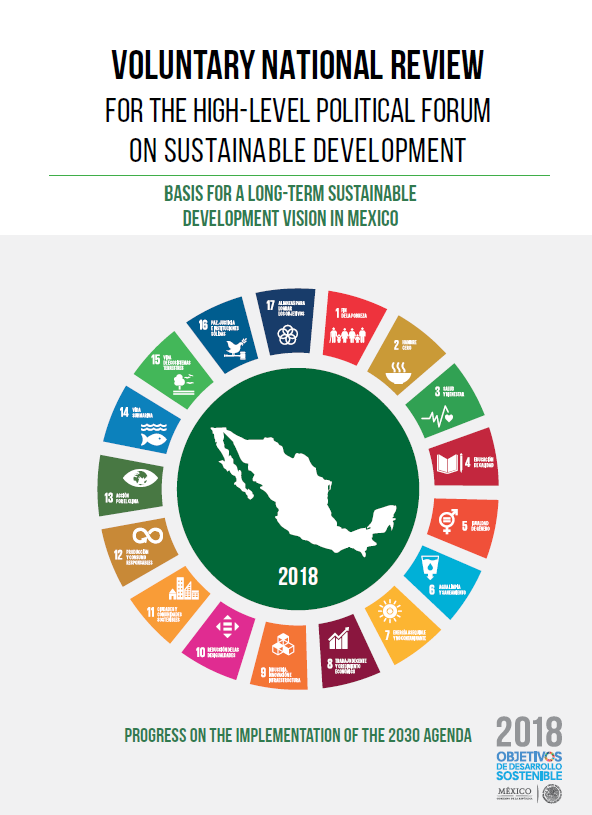 1 / 1