Tools
Primer Informe Voluntario Nacional - Venezuela 2016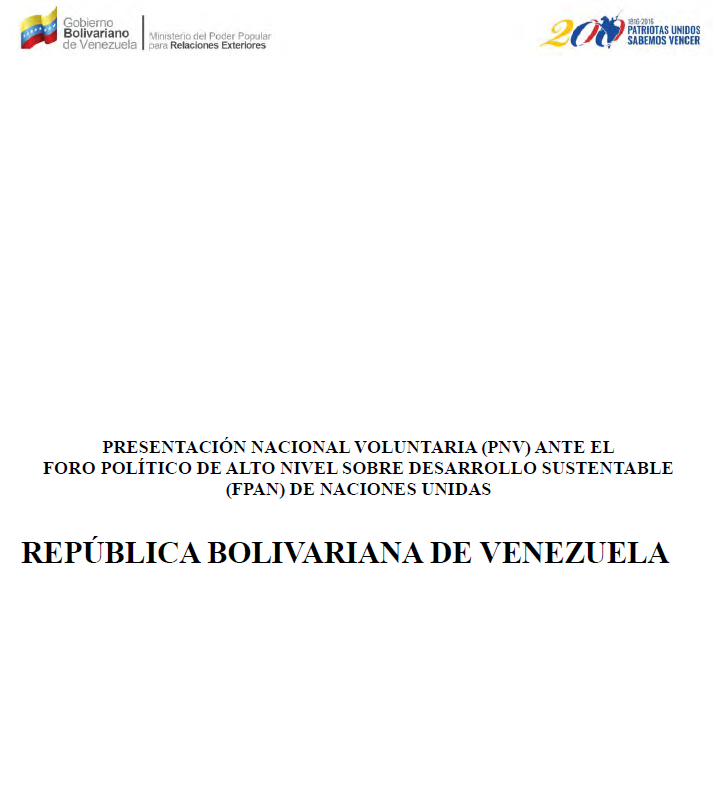 ESPAÑOL
Primer Informe Nacional Voluntario - Venezuela 2016
La República Bolivariana de Venezuela asume con entusiasmo esta Presentación Nacional Voluntaria, al considerarla una oportunidad significativa para una revisión integral de los avances alcanzados a la fecha, una ocasión para compartir experiencias y un momento para solicitar todo el apoyo de la comunidad internacional para la superación de los desafíos.
Venezuela, en su obligación de garantizar los derechos humanos, orienta sus políticas sociales a modificar las estructuras sociales que generan desigualdad y discriminación, a través de un proceso de participación democrático y popular. El informe de la Presentación Nacional Voluntaria de Venezuela relativa a la Agenda 2030 para el Desarrollo Sostenible consta de 6 títulos a través de los cuales se articulan nuestras experiencias, avances y desafíos en la alineación de políticas nacionales e internacionales dirigidas fundamentalmente a la superación de la pobreza.
ENGLISH
First National Voluntary Report - Venezuela 2016
The Bolivarian Republic of Venezuela assumes with enthusiasm this National Voluntary Report, considering it a significant opportunity for a comprehensive review of the progress achieved to date, an occasion to share experiences and a moment to request the full support of the international community to overcome the challenges.
Venezuela, in its obligation to guarantee human rights, directs its social policies to modify the social structures that generate inequality and discrimination, through a process of democratic and popular participation. This report regarding the 2030 Agenda for Sustainable Development consists of 6 titles through which our experiences, progress and challenges in the alignment of national and international policies aimed primarily at overcoming poverty are articulated.
The report is only available in Spanish.