Tools
Programa de calidad y estándares globales: Mejorando el cumplimiento de estándares y calidad internacionales (GQSP)
Programs and projects on technical cooperation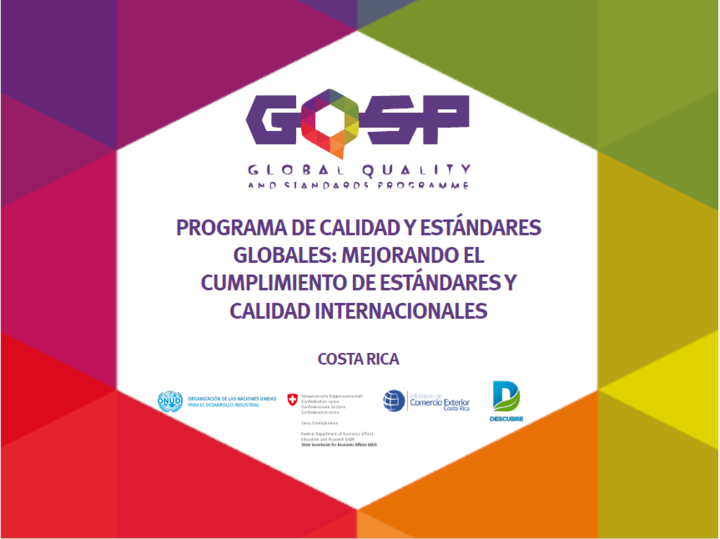 ESPAÑOL
Programa Global de Calidad y Estándares (GQSP)
El Programa Global de Normas y Calidad (GQSP) es un programa a gran escala, que fue diseñado para fomentar el desarrollo sistemático del comercio a lo largo de cadenas de valor específicas mediante el fortalecimiento de las instituciones de infraestructura de calidad y los proveedores de servicios, la mejora de la capacidad de cumplimiento de los actores del sector privado, en particular las PYME, y la creación de una cultura de la calidad entre todas las partes interesadas.
El GQSP está financiado por la Confederación Suiza, a través de la Secretaría de Estado de Economía (SECO), y lo ejecuta la Organización de las Naciones Unidas para el Desarrollo Industrial (ONUDI).
ENGLISH
Global Quality and Standards Programme (GQSP)
The Global Quality and Standards Programme (GQSP) is a large-scale programme, which was designed to encourage systematic trade development along specific value chains by strengthening quality infrastructure institutions and service providers, enhancing the compliance capacity of private sector actors, particularly SMEs, and creating a culture of quality among all stakeholders.
GQSP is funded by the Swiss Confederation, through the Swiss State Secretariat for Economic Affairs (SECO) and implemented by the United Nations Industrial Development Organization (UNIDO).