Tools
Programa global de acceso a mercados (GMAP) Colombia
Technology and skills development
Programs and projects on technical cooperation
¿Qué es el proyecto GMAP Colombia y quién lo implementa?
Como parte del Programa Global de Acceso a Mercados - GMAP, de la Agencia Noruega de Cooperación al Desarrollo - Norad y la Organización de las Naciones Unidas para el Desarrollo Industrial - ONUDI, en diciembre de 2020 se firmó el proyecto "GMAP Colombia", entre la ONUDI y el Ministerio de Comercio, Industria y Turismo que, junto con Colombia Productiva, trabaja para facilitar el acceso a mercados por parte de productores y MiPymes de las cadenas de valor de tilapia (Huila) y camarón (Tumaco), mediante el fortalecimiento de su calidad y capacidad de cumplimiento de las normas, para contribuir con el desarrollo inclusivo y sostenible del país.
A través de GMAP Colombia se abordarán diferentes retos para fortalecer las cadenas de valor:
Mejorar la competencia técnica y la sostenibilidad del Sistema Nacional de Infraestructura de la Calidad para los servicios de apoyo a la cadena de valor de la acuicultura de camarón y tilapia. La Infraestructura de la Calidad es necesaria para el funcionamiento eficaz de los mercados nacionales, y su reconocimiento internacional es importante para establecer su credibilidad en dichos mercados.
Mejorar la capacidad de los productores y las MiPymes para cumplir las normas o estándares internacionales y los requisitos para el sector.
Fortalecer la cultura de la calidad a lo largo de la cadena. La noción de cultura de la calidad comprende los valores, creencias, expectativas y compromisos compartidos con respecto a la calidad. El desarrollo de una cultura de la calidad es la forma más eficaz, significativa y sostenible de asegurar y mejorar la calidad, e incorporar un sistema dinámico de cambio para mejorar la competitividad a todos los niveles.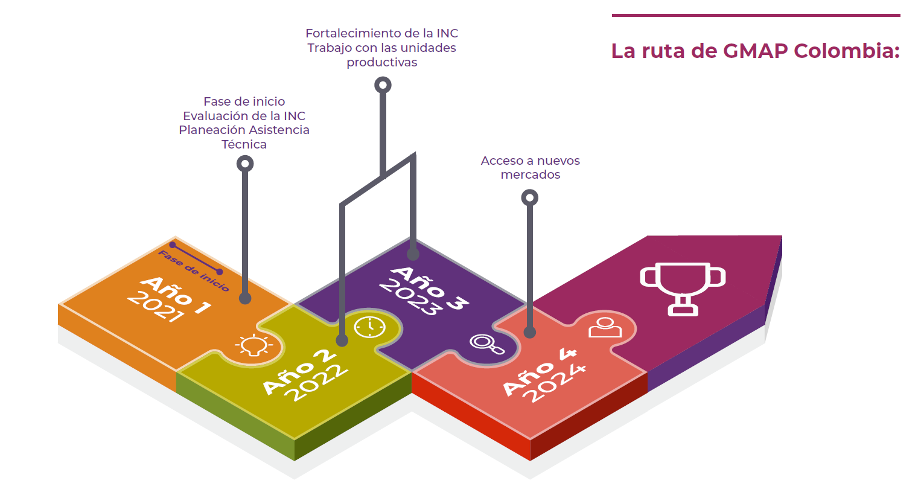 What is the GMAP Colombia project and who implements it?
As part of the Global Market Access Program - GMAP, of the Norwegian Agency for Development Cooperation - Norad and the United Nations Organization for Industrial Development - UNIDO, in December 2020 the project "GMAP Colombia" was signed, between UNIDO and the Ministry of Commerce, Industry and Tourism, which, together with Colombia Productiva, works to facilitate access to markets by producers and MSMEs of the tilapia (Huila) and shrimp (Tumaco) value chains, by the strengthening of its quality and capacity to comply with the rules, to contribute to the inclusive and sustainable development of the country.
Through GMAP Colombia, different challenges will be addressed to strengthen value chains, such as:
Improve the technical competence and sustainability of the National Quality Infrastructure System for services to support the value chain of shrimp and tilapia aquaculture. The Quality Infrastructure is necessary for the effective functioning of national markets, and its international recognition is important to establish its credibility in those markets.
Improve the capacity of producers and MSMEs to comply with international norms or standards and the requirements for the sector.
Strengthen the culture of quality throughout the chain. The notion of a quality culture encompasses shared values, beliefs, expectations, and commitments regarding quality. Developing a culture of quality is the most effective, meaningful, and sustainable way to ensure and improve quality, and to incorporate a dynamic system of change to improve competitiveness at all levels.