Tools
Mejora de la calidad de la política industrial (EQuIP)
Technology and skills development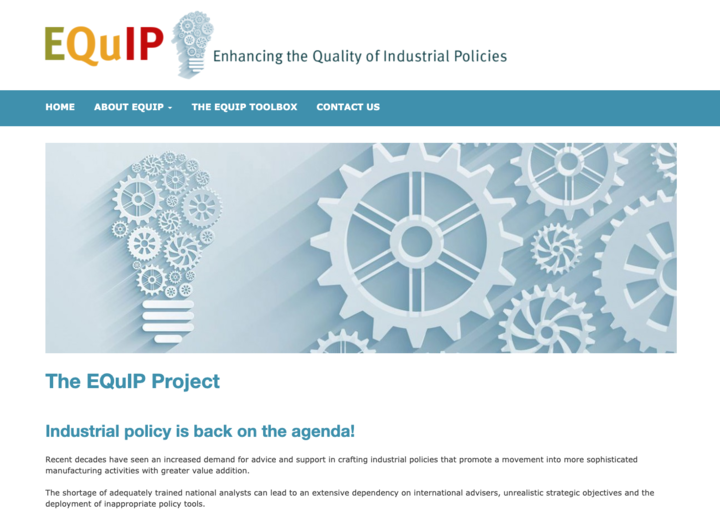 ESPAÑOL
Mejora de la calidad de la política industrial (EQuIP)
El proyecto EQuIP ayuda a los responsables políticos de los países en desarrollo a formular estrategias basadas en evidencia para un desarrollo industrial inclusivo y sostenible. El objetivo es reforzar la capacidad de los países de renta baja para gestionar su propio futuro y permitirles mejorar el establecimiento de estrategias, la formulación de políticas y su compromiso con los socios de desarrollo. La ONUDI y la GIZ han unido sus fuerzas para desarrollar el conjunto de herramientas EQuIP, un paquete integrado de metodología y creación de capacidad para el diagnóstico industrial.
En colaboración con: Sociedad Alemana para la Cooperación Internacional (GIZ).
Para acceder a EQuIP, haga clic aquí.
ENGLISH
Enhancing the Quality of Industrial Policy (EQuIP)
The EQuIP project helps policymakers in developing countries formulate evidence-based strategies for inclusive and sustainable industrial development. The aim is to strengthen the ability of lower income countries to manage their own future and to enable them to improve their strategy-setting, policy formulation and their engagement with development partners. UNIDO and GIZ have joined forces to develop the EQuIP toolbox, an integrated methodological and capacity-building package for industrial diagnosis.
In parternship with: German Corporation for International Cooperation (GIZ).
To access EQuIP, click here.