Tools
Aplicaciones de biogás para la agroindustria brasileña - Revisión de la ANEEL para la Norma 482/2012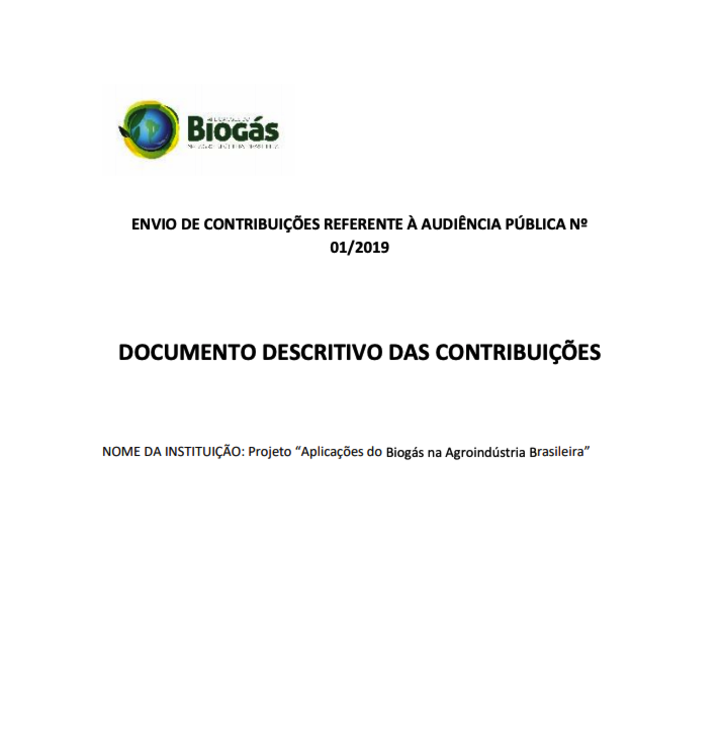 ESPAÑOL

Aplicaciones de biogás para la agroindustria brasileña - Revisión de la ANEEL para la Norma 482/2012
Este documento presenta la opinión del proyecto "Aplicaciones del Biogás para la Agroindustria Brasileña" y agrega las contribuciones de otras entidades para la Audiencia 01/2019 de la Agencia Nacional de Regulación Eléctrica (ANEEL). La información contenida en este documento tiene como objetivo proporcionar subsidios a la Agencia Reguladora en el Análisis de Impacto Regulatorio (AIR) y en el perfeccionamiento de las normas aplicables a la micro y minigeneración distribuida, en el ámbito de la Resolución Normativa nº 482/2012.
La publicación solo se encuentra disponible en portugués. Para leer la publicación, haga clic aquí.
ENGLISH
Biogas Applications for the Brazilian Agro-industry - ANEEL Revision for Normative 482/2012

This document presents the project "Biogas Applications for the Brazilian Agro-industry" opinion and aggregates contributions from other entities at the 01/2019 Hearing of the National Electricity Regulatory Agency (ANEEL). The information contained in this document is intended to provide subsidies to the Regulatory Agency in the Regulatory Impact Analysis (AIR) and in the improvement of the rules applicable to distributed micro and mini-generation, within the scope of Resolution Normative No. 482/2012.
This publication is only available in Portuguese. To read it, click here.
Attached files
Aplicações do Biogás para a Agroin...