Tools
Paquete de planificación automática del sistema de Viena (WASP)
Technology and skills development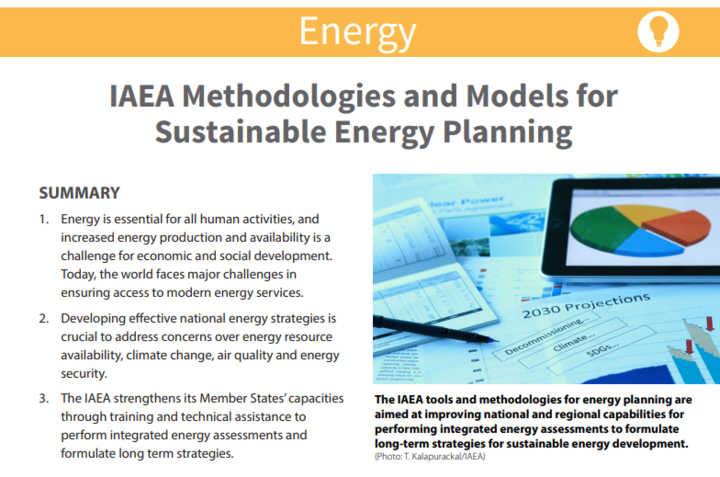 ESPAÑOL
Paquete de planificación automática del sistema de Viena (WASP)
WASP, por sus siglas en inglés, ayuda a determinar los planes de expansión óptimos para la generación de energía dentro de las restricciones identificadas por los analistas locales, que pueden incluir la disponibilidad limitada de combustible, las restricciones de emisiones y los requisitos de fiabilidad del sistema. WASP explora todas las secuencias posibles de adiciones de capacidad que son capaces de satisfacer la demanda y al mismo tiempo cumplir con los requisitos de fiabilidad del sistema. Es una herramienta eficaz para la planificación energética en los países en desarrollo.
Las herramientas y metodologías de planificación energética del OIEA, así como la formación sobre su uso, están disponibles bajo petición. Para más información, póngase en contacto con [email protected] .
Para más información en inglés, haga clic aquí.
ENGLISH
Wien Automatic System Planning Package (WASP)
WASP helps to determine optimal expansion plans for power generation within constraints identified by local analysts, which may include limited fuel availability, emission restrictions and system reliability requirements. WASP explores all possible sequences of capacity additions that are capable of satisfying demand while also meeting system reliability requirements. It is an effective tool for power planning in developing countries.
The IAEA's energy planning tools and methodologies, as well as training on how to use them, are available upon request. For further information, please contact: [email protected] .
For more information, click here.
Attached files
Methodologies and Models for Susta...