Tools
Modelo de Análisis Financiero de Planes de Expansión del Sector Eléctrico (FINPLAN)
Technology and skills development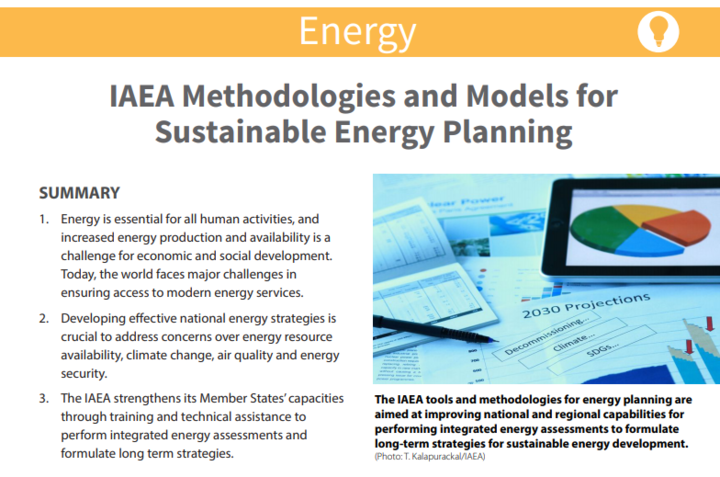 ESPAÑOL
Modelo de Análisis Financiero de Planes de Expansión del Sector Eléctrico (FINPLAN)
FINPLAN, por sus siglas en inglés, se utiliza para el análisis financiero de proyectos de generación de electricidad. Dado que las limitaciones financieras suelen ser el mayor obstáculo para la aplicación de una estrategia energética óptima, el modelo es especialmente útil para explorar la viabilidad financiera a largo plazo de los proyectos. Teniendo en cuenta los parámetros económicos, fiscales y financieros, los proyectos y sus correspondientes gastos e ingresos se analizan a partir de los estados financieros resultantes, como los flujos de caja, las cuentas de resultados y los balances, así como los indicadores financieros.
Las herramientas y metodologías de planificación energética del OIEA, así como la formación sobre cómo utilizarlas, están disponibles previa solicitud. Para más información, póngase en contacto con [email protected] .
Para más información en inglés, pulse aquí.
ENGLISH
Model for Financial Analysis of Electric Sector Expansion Plans (FINPLAN)
FINPLAN is used for the financial analysis of electricity generation projects. Since financial constraints are often the biggest obstacle to implementing an optimal energy strategy, the model is particularly helpful for exploring the long-term financial viability of projects. Taking economic, fiscal and financial parameters into account, projects and their related expenses and revenues are analysed based on the resulting financial statements such as cash flows, income statements and balance sheets as well as financial indicators.
The IAEA's energy planning tools and methodologies, as well as training on how to use them, are available upon request. For further information, please contact: [email protected] .
For more information, click here.
Attached files
Methodologies and Models for Susta...