Tools
Modelo de Alternativas de Estrategias de Suministro de Energía y su Impacto Ambiental General (MESSAGE)
Technology and skills development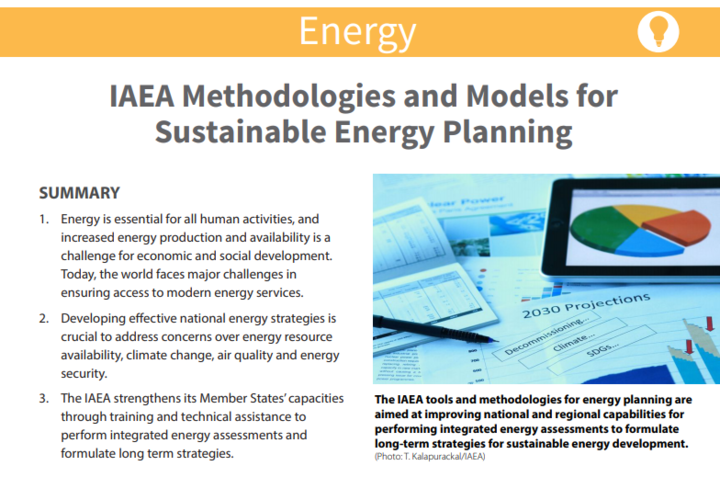 ESPAÑOL
Modelo de Alternativas de Estrategias de Suministro de Energía y su Impacto Ambiental General (MESSAGE)
MESSAGE, por sus siglas en inglés, está diseñado para formular y evaluar estrategias alternativas de suministro de energía que sean coherentes con las limitaciones definidas por el usuario en cuanto a nuevas inversiones, índices de penetración en el mercado de nuevas tecnologías, disponibilidad y comercio de combustibles y emisiones medioambientales. MESSAGE combina tecnologías y combustibles para construir cadenas energéticas, lo que permite a los usuarios trazar los flujos de energía desde la oferta hasta la demanda.
Las herramientas y metodologías de planificación energética del OIEA, así como la formación sobre su uso, están disponibles bajo petición. Para más información, póngase en contacto con [email protected] .
Para más información en inglés, haga clic aquí.
ENGLISH
Model for Energy Supply Strategy Alternatives and their General Environmental Impact (MESSAGE)
MESSAGE is designed to formulate and evaluate alternative energy supply strategies consistent with user-defined constraints on new investment, market penetration rates for new technologies, fuel availability and trade and environmental emissions. MESSAGE combines technologies and fuels to construct energy chains, making it possible for users to map energy flows from supply to demand.
The IAEA's energy planning tools and methodologies, as well as training on how to use them, are available upon request. For further information, please contact: [email protected] .
For more information, click here.
Attached files
Methodologies and Models for Susta...