Tools
Herramienta de simulación de escenarios energéticos (ESST)
Technology and skills development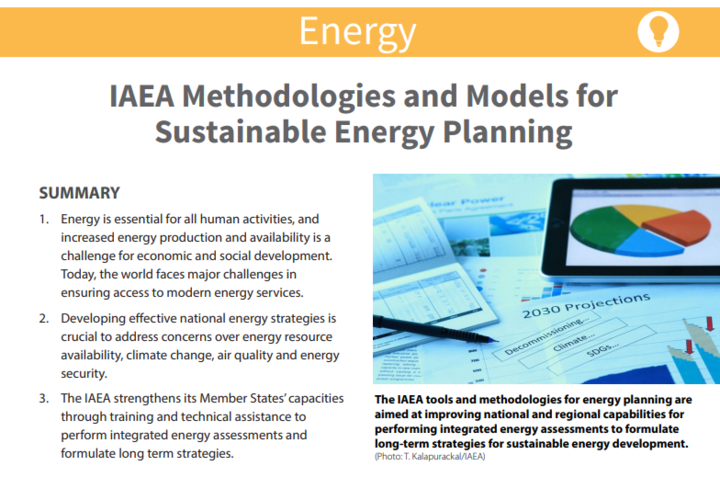 ESPAÑOL
Herramienta de simulación de escenarios energéticos (ESST)
ESST, por sus siglas en inglés, es una herramienta para explorar el desarrollo del sistema energético. Permite a los usuarios evaluar los futuros balances energéticos agregados y proporciona una primera selección de escenarios alternativos en términos de expansión de la capacidad, inversión, dióxido de carbono y otras emisiones contaminantes. El ESST puede utilizarse para analizar la carga horaria y está específicamente diseñado para manejar las modernas tecnologías renovables. Puede utilizarse para presentar conceptos complejos de análisis energético de forma sencilla, transparente e intuitiva.
Las herramientas y metodologías de planificación energética del OIEA, así como la formación sobre su uso, están disponibles bajo petición. Para más información, póngase en contacto con [email protected] .
Para más información en inglés, haga clic aquí.
ENGLISH
Energy Scenarios Simulation Tool (ESST)
ESST is a tool for exploring energy system development. It allows users to assess future aggregated energy balances and provides a first screening of alternative scenarios in terms of capacity expansion, investment, carbon dioxide and other pollutants emissions. ESST can be used to analyze hourly load and is specifically designed to handle modern renewables technologies. It can be used to present complex energy analysis concepts in a simple, transparent and intuitive way.
The IAEA's energy planning tools and methodologies, as well as training on how to use them, are available upon request. For further information, please contact: [email protected] .
For more information, click here.
Attached files
Methodologies and Models for Susta...