Tools
Marco para el clima, la tierra, la energía y el agua (CLEW)
Technology and skills development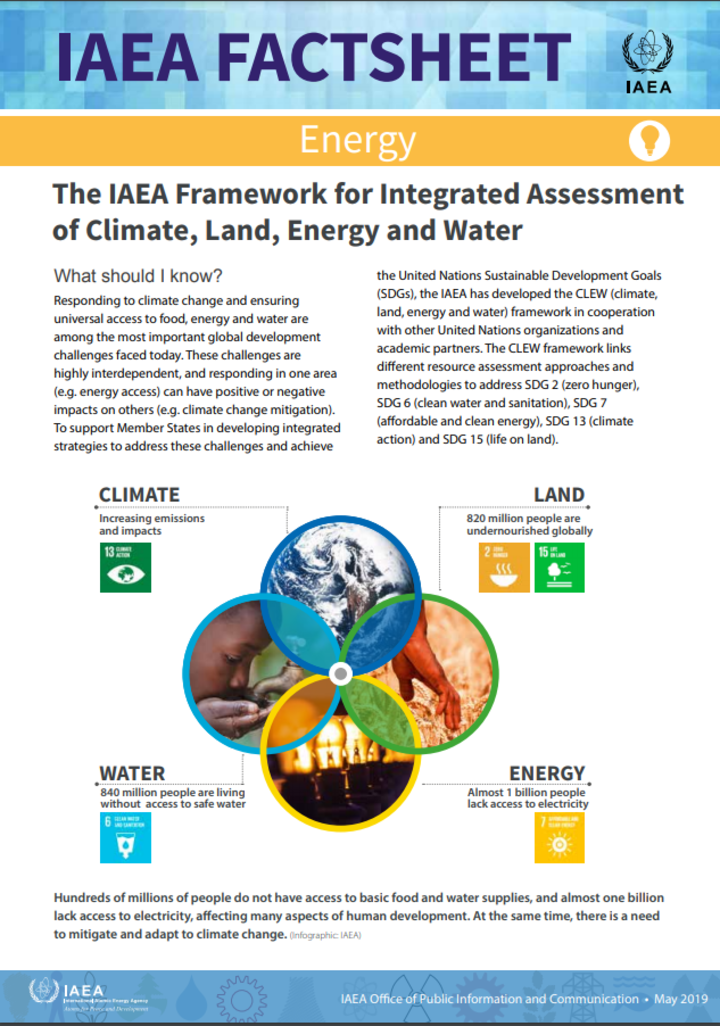 ESPAÑOL
Marco para el clima, la tierra, la energía y el agua (CLEW)
El marco CLEW es un sistema analítico para integrar diferentes enfoques y metodologías de evaluación y facilitar la colaboración entre los analistas políticos y los planificadores que se ocupan del clima, la tierra, la energía y el agua. El marco fue desarrollado por el OIEA, en cooperación con otras organizaciones de las Naciones Unidas y socios académicos, para apoyar a los Estados miembros en el desarrollo de estrategias integradas para alcanzar los Objetivos de Desarrollo Sostenible. El marco CLEW vincula diferentes enfoques y metodologías de evaluación de recursos para abordar los ODS 2, ODS 6, ODS 7, ODS 13 y ODS 15.
Las herramientas y metodologías de planificación energética del OIEA, así como la formación sobre cómo utilizarlas, están disponibles previa solicitud. Para más información, póngase en contacto con [email protected] .
ENGLISH
Climate, Land, Energy and Water (CLEW) Framework
The CLEW framework is an analytical system for integrating different assessment approaches and methodologies and facilitating collaboration between policy analysts and planners dealing with climate, land, energy and water. The framework was developed by the IAEA, in cooperation with other United Nations organizations and academic partners, to support Member States in developing integrated strategies to achieve the Sustainable Development Goals. The CLEW framework links different resource assessment approaches and methodologies to address SDG 2, SDG 6, SDG 7, SDG 13 and SDG 15.
The IAEA's energy planning tools and methodologies, as well as training on how to use them, are available upon request. For further information, please contact: [email protected] .
Attached files
Framework for Integrated Assessmen...
Integrated Assessment of Climate, ...