Tools
La Comisión Lancet sobre Contaminación y Salud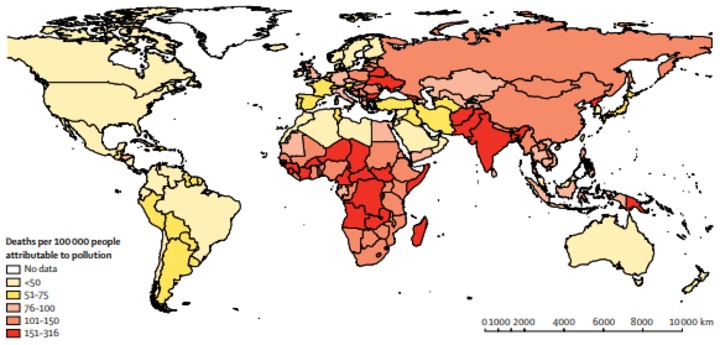 ESPAÑOL
La Comisión Lancet sobre Contaminación y Salud
A pesar de sus importantes efectos sobre la salud humana, la economía y el medio ambiente, la contaminación ha sido ignorada, especialmente en los países de ingresos bajos y medios, y los efectos de la contaminación sobre la salud se subestiman en los cálculos de la carga mundial de morbilidad. La contaminación causada por las emisiones industriales, los gases de escape de los vehículos y los productos químicos tóxicos en los países de ingresos bajos y medios se ha pasado por alto tanto en las agendas de desarrollo internacional como en las de salud mundial. Aunque más del 70% de las enfermedades causadas por la contaminación son enfermedades no transmisibles, las intervenciones contra la contaminación apenas se mencionan en el Plan de Acción Mundial para la Prevención y el Control de las Enfermedades No Transmisibles.
El objetivo de esta Comisión Lancet sobre la contaminación y la salud es aumentar la concienciación mundial sobre la contaminación, acabar con el olvido de las enfermedades relacionadas con la contaminación y movilizar los recursos y la voluntad política necesarios para hacer frente a la contaminación de forma eficaz. Para avanzar en este objetivo, hacemos seis recomendaciones. Al final de cada sección se presentan otras recomendaciones.
ENGLISH
The Lancet Commission on Pollution and Health
Despite its substantial effects on human health, the economy, and the environment, pollution has been neglected, especially in low-income and middle-income countries, and the health effects of pollution are underestimated in calculations of the global burden of disease. Pollution in low-income and middle-income countries that is caused by industrial emissions, vehicular exhaust, and toxic chemicals has particularly been overlooked in both the international development and the global health agendas. Although more than 70% of the diseases caused by pollution are non-communicable diseases, interventions against pollution are barely mentioned in the Global Action Plan for the Prevention and Control of Non-Communicable Diseases.
The aim of this Lancet Commission on pollution and health is to raise global awareness of pollution, end neglect of pollution-related disease, and mobilise the resources and the political will needed to effectively confront pollution. To advance this aim, we make six recommendations. Additional recommendations are presented at the end of each Section.
Attached files
The Lancet Commission on Pollution...