Tools
La economía circular y la División del Protocolo de Montreal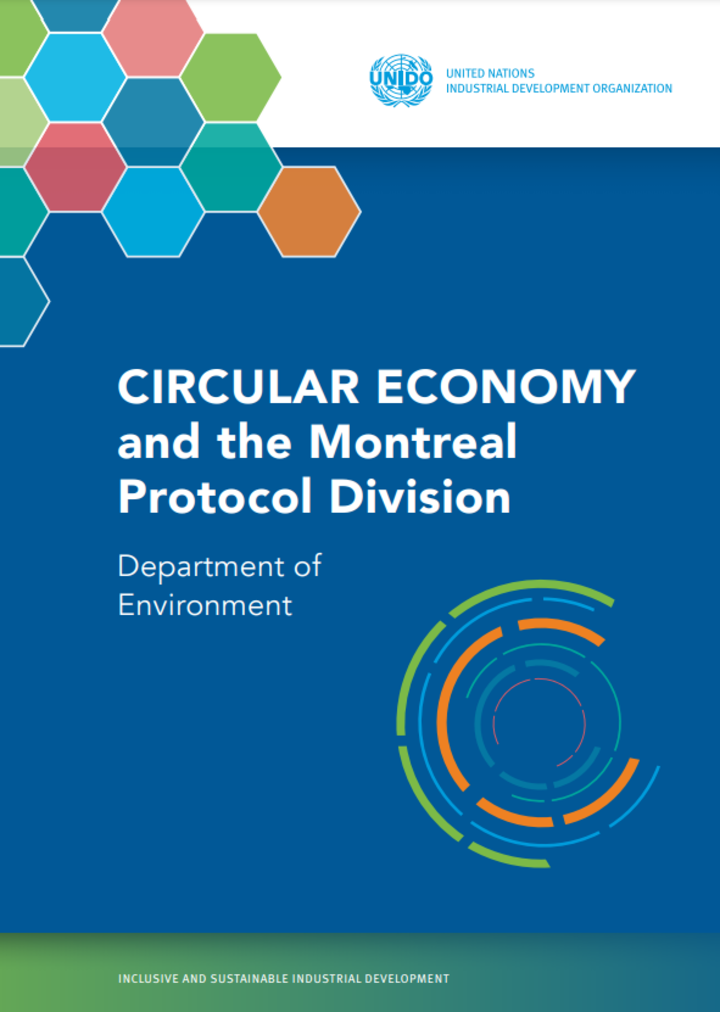 ESPAÑOL
La economía circular y la División del Protocolo de Montreal
El objetivo de esta publicación es presentar el trabajo de la División del Protocolo de Montreal (MPD) de la ONUDI y su apoyo a la economía circular. Ilustra cómo la División integra las prácticas de la economía circular en sus servicios, que incluyen la conversión de las instalaciones de producción, el diseño de productos, la creación de capacidades, los nuevos modelos empresariales y el asesoramiento político. Presenta una selección de estudios de casos de la MPD que ponen de relieve un aspecto clave de la economía circular, que personifica su propia esencia: el valor de los productos, los materiales y los componentes se conserva al ralentizar sus flujos y permitir su reutilización. Esto se ejemplifica en tres áreas interrelacionadas del trabajo del MPD: el aumento de la recuperación, el reciclaje y la regeneración de refrigerantes, materiales y componentes; el diseño de sustancias nocivas a través del diseño de productos ecológicos; y el aumento de la vida útil de los aparatos de refrigeración y aire acondicionado. Destaca cómo, en todos los aspectos del trabajo de MPD, se hace un esfuerzo para garantizar que la vida útil del producto se amplíe, se optimicen los recursos, se minimicen los residuos y se conserve el valor.
Esta publicación forma parte de una serie de la ONUDI en la que se muestran formas de facilitar la adopción de prácticas de economía circular, así como opiniones sobre cómo mejorar la sostenibilidad medioambiental y avanzar en el desarrollo económico en los países en desarrollo y de renta media.
ENGLISH
Circular Economy and the Montreal Protocol Division
The aim of this publication is to introduce the work of UNIDO's Montreal Protocol Division (MPD) and its support for the circular economy. It illustrates how the Division integrates circular economy practices into its services, which include the conversion of production facilities, product design, capacity building, new business models and policy advice. It presents selected MPD case studies that highlight a key aspect of the circular economy, one which epitomizes its very essence – the value of products, materials and components is retained by slowing their flows and enabling their reuse. This is exemplified in three interlinked areas of MPD's work – increasing the recovery, recycling and regeneration of refrigerants, materials and components; designing out harmful substances through greening product design; and increasing the lifetime of refrigeration and air conditioning appliances. It highlights how, in all aspects of MPD's work, effort is made to ensure that product lifetime is extended, resources are optimized, waste is minimized and value is retained.
This publication is part of a series by UNIDO showcasing ways in which to facilitate the uptake of circular economy practices, as well as views on how to simultaneously improve environmental sustainability and advance economic development in developing and middle income countries.
Attached files
Circular Economy and the Montreal ...