Tools
PROYECTO BIOVALOR URUGUAY
Technology and skills development
Programs and projects on technical cooperation

ESPAÑOL
Proyecto BioValor Uruguay
El Proyecto BioValor Uruguay es un proyecto del gobierno uruguayo articulado y ejecutado por MIEM, MVOTMA y MGAP, cuyo objetivo principal es la transformación de residuos generados a partir de actividades agropecuarias, agroindustriales y de pequeños centros poblados, convirtiéndolos en energía y/o subproductos, con el fin de desarrollar un modelo sostenible de bajas emisiones (contribuyendo a la reducción de Gases de Efecto Invernadero - GEI), a través del desarrollo y transferencia de tecnologías adecuadas.

Para acceder a la página web, haga clic aquí.
PUBLICACIÓN FINAL - "ECONOMÍA CIRCULAR Y CAMBIO CLIMÁTICO"
Resultados, sinergias y lecciones aprendidas (en ingles y español)
ENGLISH
BioValor Uruguay Project
The BioValor Uruguay Project is a project by the Uruguayan government articulated and executed by MIEM, MVOTMA and MGAP, whose main objective is the transformation of waste generated from agricultural, agro-industrial and small town activities, converting them into energy and/or by-products, in order to develop a sustainable model of low emissions (contributing to the reduction of Greenhouse Gases - GHG), through the development and transfer of appropriate technologies.
The website is only available in Spanish, to access it click here.
FINAL PUBLICATION - "CIRCULAR ECONOMY AND CLIMATE CHANGE"
Results, synergies and lessons learned (in English and Spanish)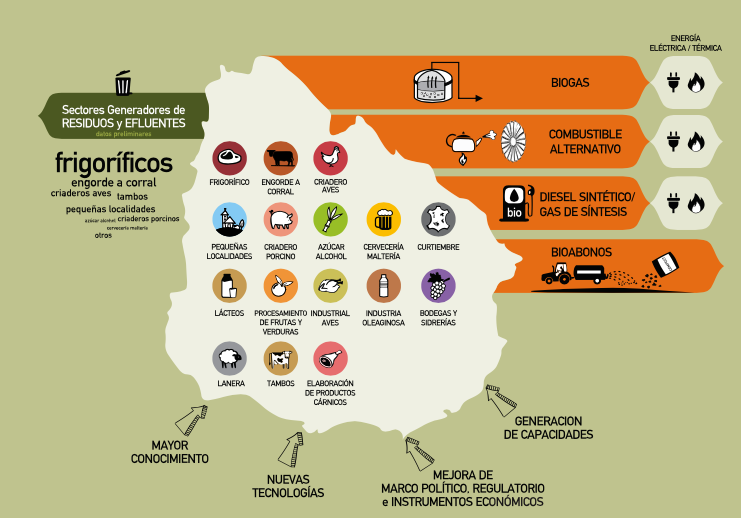 1 / 1
Attached files
Informe Proyecto demostrativo Biot...