Tools
MONITOREO REGIONAL DE LOS RESIDUOS ELECTRÓNICOS PARA AMÉRICA LATINA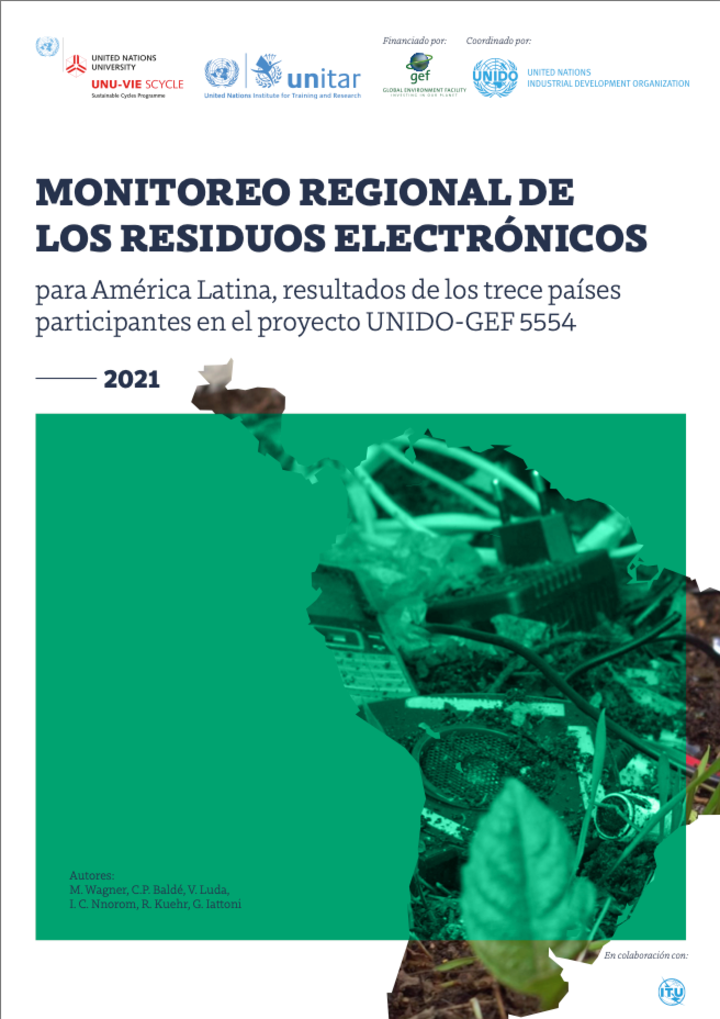 ESPAÑOL
Los residuos electrónicos constituyen uno de los flujos de residuos físicos de más rápido crecimiento en el medio ambiente mundial actual y representan una amenaza para el desarrollo sostenible. Se necesitan datos sobre este tipo de residuos para evaluar su evolución a lo largo del tiempo, delinear políticas nacionales e internacionales, limitar su generación, prevenir los vertidos ilegales, promover el reciclaje y crear puestos de trabajo en los sectores de reciclaje. Sin embargo, son pocos los países que recopilan estadísticas en materia de residuos electrónicos comparables a nivel internacional, y muchos de ellos carecen de la capacidad necesaria para recopilar los datos pertinentes tanto a escala regional como nacional.
En el marco del "Proyecto para el fortalecimiento de las iniciativas nacionales y mejora de la cooperación regional para la gestión ambientalmente racional de los COP en los residuos de aparatos electrónicos o eléctricos (RAEE)", más conocido como Proyecto Residuos Electrónicos América Latina (PREAL) —que está financiado por el Fondo para el Medio Ambiente Mundial (FMAM) y coordinado por la Organización de las Naciones Unidas para el Desarrollo Industrial (ONUDI)—, el presente Monitoreo regional de los residuos electrónicos para América Latina: resultados de los 13 países participantes en el proyecto(1) ONUDI-GEF 5554 representa el primer esfuerzo de monitoreo regional de las estadísticas, la legislación y la infraestructura de gestión de los residuos electrónicos destinado a mejorar la comprensión y la interpretación de los datos regionales sobre residuos electrónicos, con el objetivo de facilitar su gestión ambientalmente racional.
***
ENGLISH
E-waste constitutes one of the fastest-growing streams of physical waste in today's global environment and is a threat to sustainable development. Data on e-waste is required in order to evaluate developments over time, delineate national and international policies, limit e-waste generation, prevent illegal dumping, promote recycling, and create jobs in the recycling sectors. However, few countries collect internationally comparable e-waste statistics, and many countries lack the capacity to collect e-waste data at both the regional and national level.
Within the framework of the project, 'Strengthening of National Initiatives and Enhancement of Regional Cooperation for the Environmentally Sound Management of POPs in Waste of Electronic or Electrical Equipment (WEEE)', known primarily as PREAL (Proyecto Residuos Electrónicos America Latina project) – which is funded by Global Environment Facility (GEF) and coordinated by the United Nations Industrial Development Organization (UNIDO) – this Regional E-waste Monitor for Latin- America: Results for the 13 countries participating in project(1) UNIDO-GEF 5554 is the first regional monitoring effort on e-waste statistics, legislation, and e-waste management infrastructure to enhance the understanding and interpretation of regional e-waste data, with the goal of facilitating environmentally sound management of e-waste.