Tools
Programa de País Cuba 2021 - 2025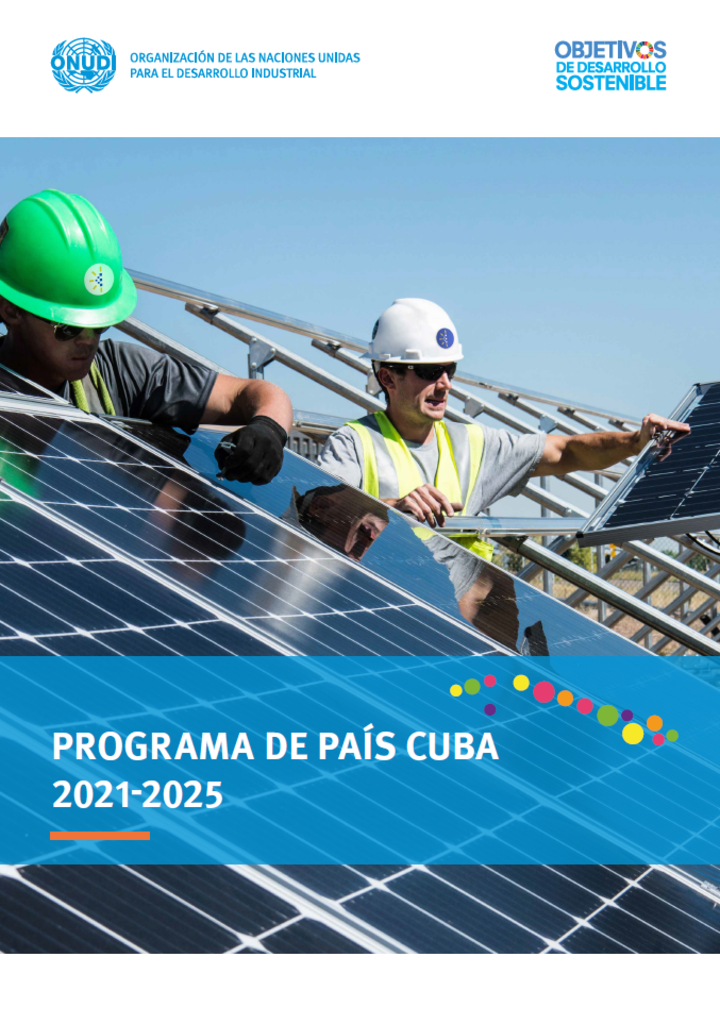 ESPAÑOL
PROGRAMA DE PAÍS CUBA 2021-2025
El Programa de País 2021-2025 fue elaborado en estrecha colaboración con el Gobierno de Cuba y está completamente alineado con el Marco de Cooperación de las Naciones Unidas para el Desarrollo Sostenible 2020-2024 y el enfoque regional de la ONUDI para América Latina y el Caribe 2020-2021. El mismo pretende contribuir a la implementación del Plan Nacional de Desarrollo Económico y Social hasta el año 2030 del país sobre la base de fomentar un desarrollo industrial inclusivo y sostenible, la creación de prosperidad compartida, la competitividad económica, la protección del medio ambiente y el fortalecimiento de los conocimientos y las instituciones.
La ONUDI alinea las prioridades para Cuba considerado los logros alcanzados en la implementación del Programa de País 2016-2020. Este documento constituye una guía para el trabajo de la ONUDI en Cuba en los próximos años. El PP facilitará la creación de alianzas y la cooperación Sur-Sur, así como la triangulación para compartir conocimientos, metodologías y experiencias exitosas.
ENGLISH
COUNTRY PROGRAMME CUBA 2021-2025
The Country Programme 2021-2025 was developed in close collaboration with the Government of Cuba and is fully aligned with the United Nations Cooperation Framework for Sustainable Development 2020-2024 and UNIDO's regional approach for Latin America and the Caribbean 2020-2021. It aims to contribute to the implementation of the country's National Economic and Social Development Plan until 2030 on the basis of promoting inclusive and sustainable industrial development, the creation of shared prosperity, economic
competitiveness, environmental protection and the strengthening of knowledge and institutions.
UNIDO aligns its activities with the national priorities taking into consideration the achievements made in the implementation of the CP 2016-2020. The CP 2021-2025 constitutes a guide for UNIDO's work in Cuba in the coming years. It will facilitate partnership building, and South-South and triangular cooperation to share knowledge, methodologies and successful experiences.