Tools
El Índice de Desarrollo Inclusivo y Sostenible: Un enfoque de Análisis Envolvente de Datos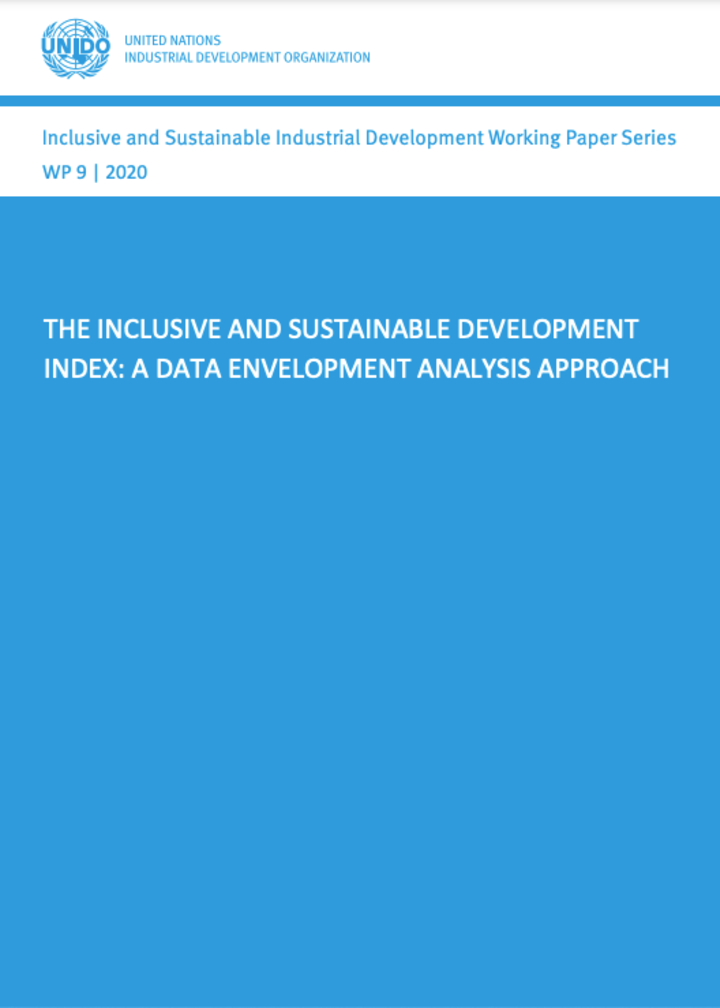 ESPAÑOL
El Índice de Desarrollo Inclusivo y Sostenible: Un enfoque de Análisis Envolvente de Datos
El Desarrollo Industrial Inclusivo y Sostenible (DIIS) exige el pleno compromiso de los responsables políticos de los países en vías de industrialización mediante la minimización de la huella medioambiental y la mejora de la inclusión social. Este estudio investiga los avances de 118 países en la consecución del DIIS (2005-2015) a partir de un modelo de Análisis Envolvente de Datos (DEA, por sus siglas en inglés) basado en la holgura orientado a los insumos (Charnes, Cooper y Rhodes). Los análisis de eficiencia se llevaron a cabo utilizando dos enfoques: i) el enfoque ISID refleja la determinación de los países de promover la industrialización y, en consecuencia, de sostener el crecimiento económico mediante la reducción de los efectos ambientales y sociales adversos que se manifiestan en la economía; ii) el enfoque DIIS-ODS 9 considera los mismos factores que el enfoque DIIS, pero se centra en los indicadores relacionados únicamente con el sector industrial. Se desarrolla una herramienta analítica para medir el DIIS utilizando los dos enfoques diferentes. Este estudio concluye que (i) Dinamarca, Suecia y Suiza ocupan los primeros puestos en el enfoque DIIS, mientras que Chequia y Suiza ocupan los primeros puestos en el enfoque DIIS-ODS 9. A lo largo del periodo 2005-2013, no hay signos de acercamiento entre los países desarrollados y los países en desarrollo en el progreso hacia el DIIS y el DIIS-ODS 9.
La publucicación solo se encuentra disponible en inglés. Para leerla, haga clic aquí.
ENGLISH
The Inclusive and Sustainable Development Index: A Data Envelopment Analysis approach
Inclusive and Sustainable Industrial Development (ISID) calls for the full engagement of policymakers in industrializing countries by minimizing the environmental footprint and enhancing social inclusiveness. This study investigates the progress 118 countries have made towards achieving ISID (2005–2015) based on an input-oriented CCR (Charnes, Cooper and Rhodes) slack-based (Data Envelopment Analysis) DEA model. Efficiency analyses were carried out using two approaches: i) the ISID approach reflects countries' determination to promote industrialization and consequently, to sustain economic growth by reducing the adverse environmental and social effects that manifest in the economy; ii) the ISID-SDG9 approach considers the same factors as the ISID approach, but focuses on indicators related to the industrial sector only. An analytical tool is developed to measure ISID using the two different approaches. This study finds that (i) Denmark, Sweden and Switzerland are ranked at the top in the ISID approach, while Czechia and Switzerland are at the top of the ranking in the ISID-SDG9 approach. Throughout 2005–2013, there is no sign of catching up between developed and developing countries in progress towards ISID and ISID-SDG9.
To read the publicaction, click here.
Attached files
The Inclusive and Sustainable Deve...