News
ONUDI Y COSTA RICA APOYAN AL SECTOR PRIVADO EN LA IMPLEMENTACIÓN DE UN ENFOQUE DE ECONOMÍA CIRCULAR PARA EL PLÁSTICO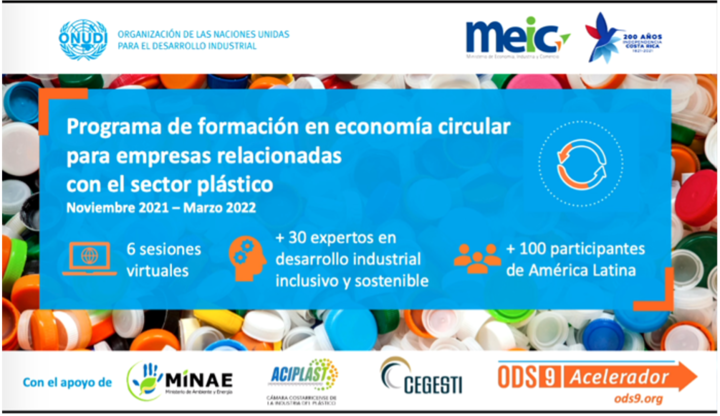 ESPAÑOL
24 de noviembre de 2021 - La Organización de las Naciones Unidas para el Desarrollo Industrial (ONUDI) y el Gobierno de Costa Rica unieron esfuerzos para iniciar un programa de capacitación en Economía Circular para pequeñas y medianas empresas. Más de 250 participantes de Costa Rica y otros países de América Latina asistieron a la primera sesión transmitida a través de la recién lanzada plataforma del Acelerador del ODS 9 de la ONUDI.
La serie de seis seminarios web busca incentivar al sector privado a identificar los beneficios en términos económicos y del empleo derivados de una recuperación más verde, inclusiva y resiliente, al mismo tiempo que que crea un espacio de discusión e intercambio de conocimientos que apoyan el proceso de transformación hacia una economía circular.
La primera sesión se centró en la "Inducción al concepto de Economía Circular y sus beneficios". Los panelistas presentaron las ventajas de la economía circular para la competitividad y la implementación de un enfoque de economía circular en las PYMES costarricenses del sector del plástico.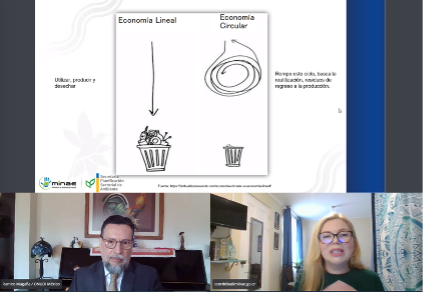 Los representantes de alto nivel de Costa Rica, el Excmo. Sr. Alejandro Solano, Embajador de Costa Rica en Austria, y el Sr. Leonardo Chacón Rodríguez, Viceministro de Economía, Industria y Comercio, destacaron que la introducción del programa de formación llegaba en un momento clave para ofrecer apoyo a las PYME costarricenses afectadas por la pandemia.
El Sr. Diego Masera, Director Adjunto del Departamento de Coordinación Regional y sobre el Terreno y Jefe de la División Regional para América Latina y el Caribe, declaró que este programa de formación era una iniciativa piloto para la región que se llevaba a cabo junto con Costa Rica, como país pionero y modelo de sostenibilidad.
La Coordinadora Residente de las Naciones Unidas en Costa Rica, Sra. Allegra Baiocchi, elogió a la ONUDI por el lanzamiento de este programa piloto, alentando su replicación en toda la región. Resaltó la importancia de iniciativas como ésta, en la que el sector privado y el gobierno nacional colaboran de la mano de las Naciones Unidas.
El programa de formación durará desde noviembre de 2021 hasta marzo de 2022 y contará con otras cinco sesiones enfocadas en:
Tendencias sectoriales y regulatorias y análisis de datos aplicados a los estudios económicos;
Identificación de oportunidades de mejora competitiva y circularidad en la industria del plástico;
Economía circular e industria 4.0;
Instrumentos de financiación y apoyo nacionales e internacionales; y
Buenas prácticas y casos de éxito para la aplicación de la economía circular.
Para conocer más información sobre el programa y acceder a la grabación de la sesión, haga clic aquí.

Póngase en contacto con nosotros: [email protected]
ENGLISH
UNIDO AND COSTA RICA SUPPORTING THE PRIVATE SECTOR IN THE IMPLEMENTATION OF A CIRCULAR ECONOMY APPROACH FOR PLASTIC
24 November 2021 - The United Nations Industrial Development Organization (UNIDO) and the Government of Costa Rica joined efforts to initiate a training programme on Circular Economy for small and medium enterprises. More than 250 participants from Costa Rica and other countries in Latin America attended the first session facilitated through via UNIDO´s recently launched SDG 9 Accelerator platform.

While creating spaces for discussion and knowledge exchange that support the transformation process towards a circular economy, the series of six webinars aim to incentivise the private sector to identify the benefits of economic profits and employment of achieving a greener, inclusive and resilient recovery.
The first session focussed on the "Induction to the concept of Circular Economy and its benefits". The panellists presented the advantages of the circular economy for competitiveness and the implementation of a circular economy approach in the Costa Rican SMEs in the plastic sector.
The high-level representatives of Costa Rica, his Excellency Mr. Alejandro Solano, Ambassador of Costa Rica to Austria, and Mr. Leonardo Chacón Rodriguez, Vice Minister for Economy, Industry and Trade, highlighted that the introduction of the training programme came at the right moment to offer support to Costa Rican SMEs affected by the pandemic.
Mr. Diego Masera, Deputy Director of the Department of Regional and Field Coordination and Chief of the Regional Division for Latin America and the Caribbean, stated that this training programme was a pilot initiative for the region implemented together with Costa Rica, as a pioneer country and role model in sustainability.
The United Nations Resident Coordinator in Costa Rica, Ms. Allegra Baiocchi, praised UNIDO for launching this pilot programme encouraging its replication across the region. She highlighted the importance of initiatives such as this one, featuring successful cooperation between the private sector and the national government together with the United Nations.
The training programme will last from November 2021 until March 2022 and will feature five more sessions focused on:
Sectoral and regulatory trends and data analysis applied to economic studies;
Identifying opportunities for competitive improvement and circularity in the plastics industry;
Circular economy and industry 4.0;
National and international funding instruments and support; and
Good practices and success stories for the implementation of circular economy.
For more information on the programme and the recording of the session, please click here.
Contact us: [email protected]